Justice is out of reach for too many Americans. We're finding solutions.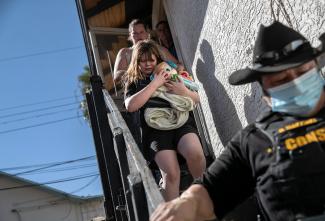 Low income tenants with access to legal representation can avoid eviction and hold abusive landlords accountable.
Many people need legal help to divorce on equitable terms, to get protection from abusive spouses- or to keep their families together.
Debt collectors file millions of lawsuits every year- many of them pitting seasoned attorneys against ordinary people who struggle to get a fair hearing in court.
Justice Index
The Justice Index is a snapshot of how well each state does in securing access to justice for some of our most vulnerable populations. View our detailed maps, data and state-by-state rankings.
NCAJ's Justice Index has been updated after a nationwide survey of state laws and policies. See how states measure up against key civil justice benchmarks-- and how they rank against each other.
Courts across the US charge exorbitant fines and fees and then lock people up when they can't afford to pay. See how every state measures up against our concrete vision of a better, rights-respecting approach to monetary sanctions.
States across the country are considering reforms that would empower people other than attorneys to use the law. This NCAJ report draws out key perspectives from beyond the legal community about what kind of change is needed-- and why we need a more inclusive policy debate.
Analysis from NCAJ finds that if New York passes the End Predatory Court Fees Act it could move to first in the nation on the Fines and Fees Justice Index.